Zatch Bell! Mamodo Fury

Information

Japanese Title
金色のガッシュベル!! 激闘!最強の魔物達 Konjiki no Gasshu Beru!! Gekitō! Saikyō no Mamono-tachi
Developer(s)
Mechanic Arms
Publisher(s)
Bandai, Namco Bandai Games
Platform(s)
PlayStation 2, GameCube
Release Date(s)
PlayStation 2


JP: December 2, 2004
NA: September 19, 2006

Nintendo GameCube
NA: December 12, 2006

Genres(s)
Fighting/with RPG Elements
Mode(s)
Single-player, Multiplayer
Rating(s)
CERO: All Ages

ESRB: Teen (Ages 13+)
Zatch Bell! Mamodo Fury, known as Konjiki no Gash Bell!! Gekitō! Saikyō no Mamono-tachi (金色のガッシュベル!! 激闘!最強の魔物達 Konjiki no Gasshu Beru!! Gekitō! Saikyō no Mamono-tachi, lit. "Golden Gash Bell!! Fierce Fighting! The Strongest Demons") in Japan, is a fighting game released on the PlayStation 2 in Japan in 2004 and later in the United States in 2006 as the last Zatch Bell! video game to be released outside Japan. A GameCube version was published by Namco Bandai Games in 2006 in the United States only after the PlayStation 2 version was localized.
Gameplay
Zatch Bell! Mamodo Fury offers a 3D gameplay based on the story of the two initial anime seasons. There are 20 playable teams, each with six spells (the sixth is the Strongest Spell). The game has five main modes, and two extras ("Gallery" and "Options"). Each story mode level 'rates' the player action during battle, with ranks going from "A" to "E", considering points such as Health, Number of times knocked down and Time. After each story mode stage is completed, the player will receive Mamodo Points, according to the rank gained, (only ranks "A"-"C" give the player mamodo points) which are used to boost Zatch's abilities, such as Strength, Speed and Strongest Spell.
In order to execute each spell, the player needs to gather heart energy, which is the blue bar near the mamodo's health bar. Each attack needs a different rate of heart energy, depending on the level of difficulty and the desired attack. The Strongest Spells can only be used if the player press correctly the button sequence in the screen, which changes from mamodo to mamodo; and after it the attack can even get stronger by pressing the buttons that will appear, or turn lower it's power by pressing other buttons (there're two sequences: one to boost the attack and another to decrease it's power).
Some objects, such as rocks and metal bars, interact with the player, and may 'attack' him or his opponent (if the mamodo's spell hits an object, it'll move). This strategy is used in the battle against the original Robnos.
Game Modes
Story Mode: Play is done over the course of 40 levels consisting of different opponents. Often special conditions will need to be met, such as defeating an opponent with Bao Zakeruga, or surviving until time is up. In addition to the regular Story Mode there is a series of mini games which are consolidated into "Zatch's Diary". These follow every day situations in Zatch's life. Previously played levels can be reselected either to improve rating or on higher difficulties.
Arcade Mode: Choose a character and fight against eight opponents. The eight opponents are preset for each character (ex. Zatch's first battle will always be against Hyde). Once completed, a special cut-scene for the chosen character will play that contains dialogue between the mamodo and his or her partner. After the scene concludes you will see the statistics of all eight matches. These statistics determine the chance of the mamodo becoming King. To receive a 100% rating, all matches must be one with an "A" rating.
VS. Mode: This is a traditional one-on-one battle. Choose any character and stage and begin fighting immediately. Play can either be against CPU opponents or other people via two controllers. A ranking up system is also available. Stats for individual characters can be upgraded by the obtaining of "Mamodo Points", which are distributed after the conclusion of a match. The amount of points given is based on the aforementioned ranking system, with "A" being the best and "E" being the worst.
4P Battle: Meant as more of a party mode, the 4P battles are in the form of 2 mini games, "Burn the Spell Book", and "Catch the Yellowtail".
Mini-Games: This game mode contains seven mini games, of which five are from Zatch's Diary, where certain goals must be completed.
Gallery:The Gallery is split into several subtypes: the Model Gallery, which shows all the character models used in the game along with a short description of each; Visual Gallery, which has all the cut scenes from the Story Mode; Stage Gallery, which lets the player control Suzy Mizuno and roam freely along the multiplayer stages; and the Sound Gallery, which contains all the music from the game.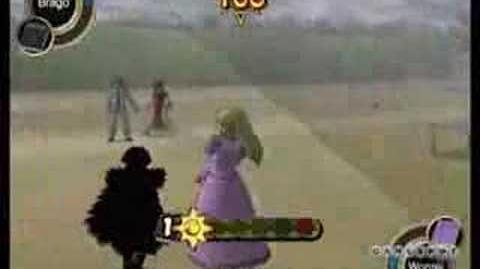 Playable characters
The player can choose between 20 teams to play the "Arcade" and "Versus" modes, but the only playable team in "Story" mode is Zatch & Kiyo. Some teams (marked with *) aren't playable, but can be fought in Story mode, as well as be seen in "Gallery". Only a few teams are unlocked since the beginning, with the others being unlocked if they're defeated in the Story mode with "A" or "B" ranks (at least one "A" rank). If the player gets at least two "A" ranks in versus mode with the same team, the mamodo will be unlocked in the gallery, being the partner unlocked after completing the Arcade with the same team. Below is a list of all teams in-game teams (there are also Naomi and Suzy in the game).
Stages
River Bed
Botanical Garden
Park
Abandoned Building
Roof of Abandoned Building
Schoolyard
Cold Storage Warehouse
Meadow
Quarry
Forest
Abandoned Factory
Front of Windmill
Concert Auditorium (only in Story Mode)
Castle (only in Story Mode)
Vacant Lot (only in Story Mode)
Ruins (only in Story Mode)
Top Level of Ruins (only in Story Mode)
Questions
How do you unlock Kanchome, Tia, Ponygon, and Wonrei in Arcade Mode?
Answers: Defeat any enemy with them in VS. Mode and recive an "A". The easiest one is with Kanchomé (guess why).
Quotes
Main article: Zatch Bell! Mamodo Fury/Quotes
External links