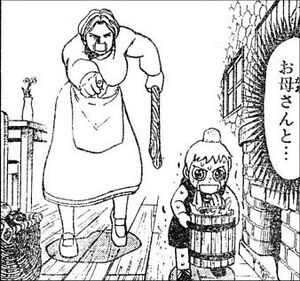 Yuno is Zatch's caretaker. After King Bell gave Zatch the power of Baou, he sent him away to live with Yuno because he feared that Zatch would get hurt due to Zeno's jealousy. She was very cruel to Zatch, making him do all the chores and constantly reminding him that he had no family. After Zeno saw what Zatch went through with Yuno, he began to regret his hatred towards his brother. Zatch couldn't tell Zeno about what he experienced with Yuno because his memory was wiped by him. However, Zeno saw the memories he had stolen by the power of Baou; after this, his hatred vanished completely.
Yuno was seen in the royal palace as a maid shortly before Zatch's coronation. Zeno was seen rebuking her and telling her that it wouldn't be inappropriate to throw her in jail considering how she treated Zatch, and they were only grateful for her work.
Community content is available under
CC-BY-SA
unless otherwise noted.