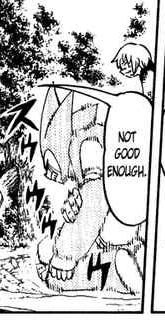 Rogue Viper (ローグ・バイパー Roogu Baipaa) and his partner, are a mamodo team who only appears once in manga chapter 279 (image).
Nothing is known about them in regards to spells or personalities, and next to nothing is known besides that; they are clearly a formidable team to have lasted as long as they did in the battle, but their power apparently paled before the likes of Brago, who defeated them. The King's Festival began with their defeat, as there were only ten Mamodo left on earth (Arth, Ashuron, Purio, Kanchomé, Gorm, Tia, Ponygon, Clear Note, Brago, and Zatch), meaning that Rogue Viper placed eleventh in the battle overall.
Information
Ability: Unknown
Alignment: Unknown
Spellbook color: Golden Corn
Book Burned by: Brago and Sherry Belmont
Community content is available under
CC-BY-SA
unless otherwise noted.