Miss Wriggle, known as Monmon Retsusai (洌才・モンモン Retsusai Monmon) in Japan, is the poetry teacher (national/Japanese language teacher in Japan) at Mochinoki Middle School.
Biography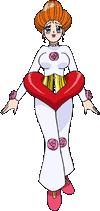 Miss Wriggle is the "secret weapon"
Mr. Touyama
brings to his history class when he tries to fail
Kiyo
as part of his revenge. All of the male students besides Kiyo became infatuated with Miss Wriggle's cute appearance and sexy voice. Even though she is considered to be Mr. Touyama's "secret weapon", Wriggle doesn't like Touyama even though she likes seeing him "love sick" over her (or "agony" in Japan).
Miss Wriggle brings Zatch and Ponygon to class as her music assistance when Miss Wriggle sings her song "Mon Mon" (もん・もん) (known as "Love Sick Dance" in the English dub). While everyone is dancing to the song, Kiyo doesn't dance to it at all.
After the dance, Wriggle tells the class that she'll see the class later during her poetry class for a pop quiz, which made all the students upset, but before the pop quiz, Kiyo and Suzy read poems from their poetry textbooks to the class and figure out what they mean. And as the other students were answering pointless questions, Kaneko couldn't take it anymore and wanted to learn real things in school.
Miss Wriggle then prepares another dance with Zatch and Ponygon and insisted Kiyo join with her dance but he refused. Zatch and Ponygon attack Kiyo for making Miss Wriggle crying and forced Kiyo to dance with the "Mon Mon"/"Love Sick Dance" song. Kiyo didn't like doing the dance but he was surprised Kanedo loved it.
After the second dance, the class then writes haiku and read them to the class for grading. With poor "love sick"/"agony" passage Kiyo wrote, he was graded poorly for once, as part of Mr. Touyama's revenge.
Appearances
Anime Episodes: 99, 108, 112, 131, 150
Trivia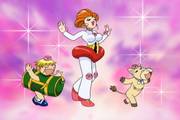 Mari Adachi has done a few character songs as Monmon-sensei (Miss Wriggle) for CD releases including:
Community content is available under
CC-BY-SA
unless otherwise noted.