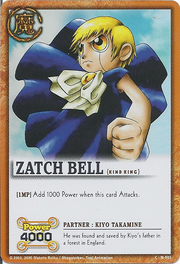 MAMODO cards
(魔物カード
mamono kādo
, lit. "demon card", labeled as "魔" (ma), also meaning "demon" or "magic") are a type of card used to wage battle in
Zatch Bell! The Card Battle
during the Battle Phase. A maximum of 3 MAMODO cards may be placed in any of the three MAMODO card area on the Gamemat by pulling them out of the Spell Book. The MAMODO's Special Ability is valid while the cards are in play on the Gamemat. No duplicate cards featuring the same MAMODO name can be placed on your side of the Gamemat. MAMODO cards that have different card numbers but share a MAMODO name [such as
M-024 Robnos (Double)
and
M-025 Robnos (Complete)
] ARE considered to be duplicates.
Some MAMODO card effects require one MAMODO card to be placed directly on top of another MAMODO card. For example, M-007 Gofure (Transformed) is put in play directly on top of an in-play M-006 Gofure card (the standard, or "regular" Gofure card). In such cases, any attached PARTNER cards are then attached to the new MAMODO card. Unless otherwise noted, both MAMODO cards are discarded when the top card is sent to the Discard Pile.
See also
Types of MAMODO cards
Subcategories
This category has the following 38 subcategories, out of 38 total.
B

C

D

E

F

G

H

K

L

M

N

P

R

S

T

W

Y

Z
Pages in category "MAMODO cards"
The following 76 pages are in this category, out of 76 total.