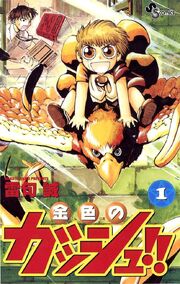 The
Zatch Bell! manga
(known as
Konjiki no Gash!!
(金色のガッシュ!!
Konjiki no Gasshu!!
, lit. "Golden Gash!!") in Japan,
Gash!
in Germany,
魔法少年賈修!!
(
Mófǎ Shàonián Jiǎxiū!!
, lit. "Magical Boy Gash!!") in China, and
금색의 갓슈!!
(
Geumsaegui Gassyu!!
, lit. "Golden Gash!!") in Korea, is a manga series created by
Makoto Raiku
that was published by Shogakukan on January 2001 in Japan and spanned until December 2007 with 33 volumes with some side stories.
The manga was licensed by VIZ Media but the English release was canceled and discontinued after 25 volumes on June 9, 2009. The Italian release by Play Media was canceled after its first four manga volumes due to poor sales.[1] Likewise, the German version Gash!, published by Egmont Manga, was also canceled after seven volumes for the same reason.[2] Fortunately, all 33 manga volumes were localized in France by Kana and in Spain by Norma Editorial. The Chinese (Taiwan) version 魔法少年賈修!! was published by Ching Win Publishing[3] and the Korean version 금색의 갓슈!! was published by Daewon Culture Industry.[4]
Fan scanlations of the original Japanese Konjiki no Gash manga with all 323 chapters can be found on unofficial manga websites such as sites such as MangaReader.
Volumes
See also: Chapters/Other languages for the list of chapters released in other regions and languages such as Spain (by Norma Editorial), France (by Kana), and German (by Egmont Manga as Gash!!).
Volume 1
Volume 2
Volume 3
Volume 4
Volume 5
Volume 6
Volume 7
Volume 8
Volume 9
Volume 10
Volume 11
Volume 12
Volume 13
Volume 14
Volume 15
Volume 16
Volume 17
Volume 18
Volume 19
Volume 20
Volume 21
Volume 22
Volume 23
Volume 24
Volume 25
Volume 26
Volume 27
Volume 28
Volume 29
Volume 30
Volume 31
Volume 32
Volume 33
Side stories
Notes
References
Trending pages
All items (5)